Exhibition: Marks of Resistance 6/20/18-9/21/18
5/27/2018
June 20 - September 21, 2018
Clifford Chance US LLP's Art Program

Artists: Nancy Brooks Brody / Heather Cox / Florence Derive / Edie Fake / Lola Flash / Daniel Marcellus Givens / Eric Gyamfi / Lenn Keller / Wayne Koestenbaum / Larry Mantello / Sig Olson / Allison Michael Ornstein / Mickalene Thomas / Conrad Ventur

According to recent FBI data, this past year saw an uptick in hate crimes against LGBTQ Americans. In spite of this startling statistic, plans for the 2020 Census are moving forward without questions about sexuality and gender; thwarting years of advocacy and activism that LGBTQ bodies be counted. Indeed, the U.S. Census board has never accounted for LGBTQ Americans, which has created a challenge for federal agencies and researchers to accurately track the size, demographics, and needs of these vulnerable communities. Marks of Resistance will include artwork by fourteen LGBTQ artists with a wide range of creative practices that emphasize presence and visibility as a form of political resistance. Works will span diverse media and forms: portraiture—of queer people, places and archives that reify cultural memory and demand our attention—and abstract works that articulate identity, personhood and presence through slight or cumulative marks, color and materials.
---
Past Exhibition: Among Friends 4/27-4/2/18
2/9/2018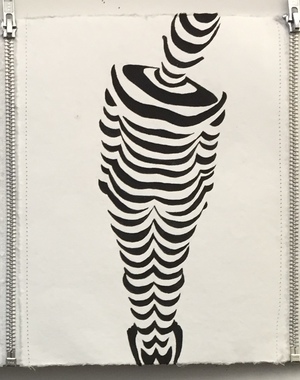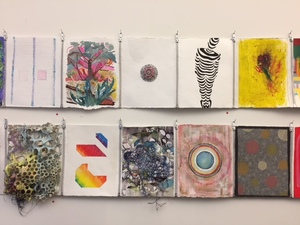 My work was part of a collaborative group exhibit inspired by Robert Rauschenberg's 1978 piece "Hiccups". The show titled Among Friends featured original contemporary artwork by over 100 artists, zipped together
to create one long collaborative piece. The exhibition was organized by Beth Dary, Alexandra Rutsch Brock and Patricia Fabricant and was on view during the DUMBO Open Studio weekend at Beth Dary's studio, April 28-29, 2018.